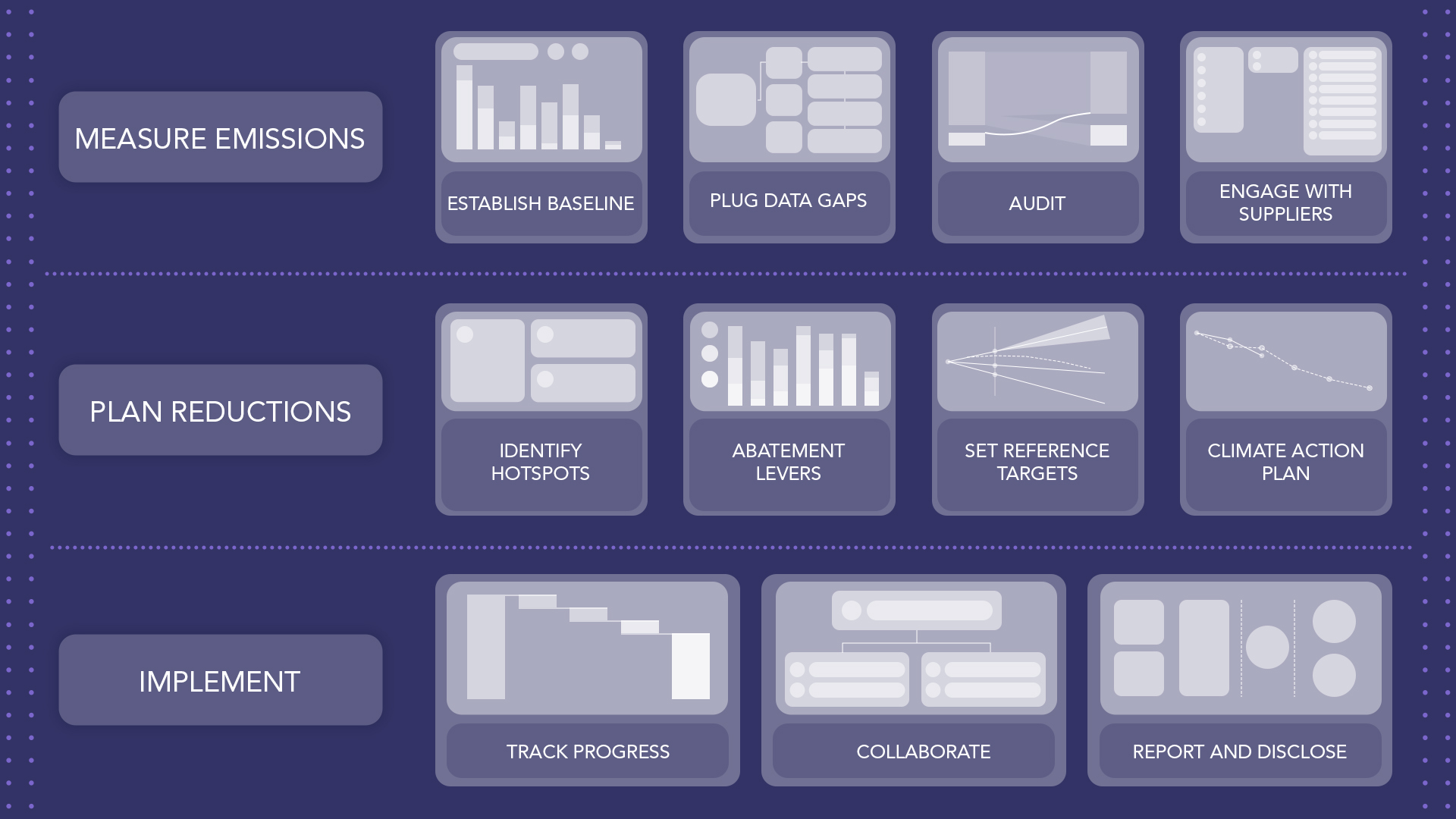 Use Terrascope to create an emissions baseline, fill data gaps, and validate data for a thorough emissions assessment.
Build a comprehensive understanding of Scope-1, Scope-2 and Scope-3 emissions across your enterprise's value chain. Terrascope's proprietary data confidence methodology provides greater certainty and credibility in emissions measurement and disclosures, and automates laborious data ingestion.
Terrascope is 5X faster at data ingestion than manual efforts.
Understand gaps in data in the value chain, and plug gaps using data-modeling. The Terrascope Platform helps build emissions of products or processes which lack upstream supplier data by breaking down the product into its constituent ingredients, match the most pertinent emission factors across its comprehensive Emission Factor Database, and plug any gaps in data in the value chain, upstream or downstream.
Understand the validity of the measured data and emissions baselines by data profiling. The Terrascope Platform uses Machine Learning to build a data profile and identify improvement opportunities in data collection across the value chain.
Uncover gaps in your supplier network with most material emission hotspots, and understand where confidence in your emissions estimates are low because of missing data or where relevant coverage in emission factor databases is poor.
Leverage Terrascope to detect emission hotspots, prioritise decarbonisation, set targets, and execute a net-zero climate strategy with expert guidance.
Understand emissions within your enterprise's value chain. With Terrascope's ability to identify emissions hotspots by countries, business units, factories, or processes, you can identify hotspots with the highest emission contributions for the most impactful decarbonisation actions.
The Terrascope Platform helps build and compare "what-if" simulations by changing multiple factors across the value chain, and evaluate the impact of each on emissions. The simulations build an accurate forecast on emission mitigation, and set your enterprise on an actionable path towards net-zero
Develop top-down targets that are consistent with the Paris Agreement's 1.5°C pathway, and in alignment with The Science-based Targets initiative (SBTi) guidance on reduction Targets. Sustainability Experts and Carbon Data Analysts from Terrascope collaborate with your team on abatement insights to inform target setting.
Execute Climate Strategy & Action plan
Aggregate the most relevant and impactful "what-if" simulations from the Terrascope Platform into a Climate Scenario leading your enterprise towards netzero. The Terrascope Platform supports tracking progress, while Sustainability Experts and Carbon Data Analysts from Terrascope guide you through each step.
Monitor progress using Terrascope, enhance collaboration with shared dashboards, and simplify reporting through seamless integrations.
Monitor emission reduction efforts using Terrascope, and evaluate progress towards achieving net-zero targets throughout the value chain. Terrascope's Year-on-year view and active lineage helps you track your emission reduction progress in comparison to your targets
Communicate sustainability and decarbonisation initiatives internally as well as externally. Through the Terrascope Platform, teams working on the ground have access to emissions data dashboards that matter to them, unlocking collaboration within your organisation and external partners to support data gathering, reduction initiatives, and progress tracking.
Reporting and disclosing emission reduction efforts to external stakeholders is an essential part of the decarbonisation journey. The Terrascope Platform enables reports to be exported in desired formats, and comes with API integrations for a number of reporting platforms making reporting and disclosure seamless.