A Look at Australia's Climate Regulations and How Terrascope Can Help Businesses Navigate Them
As sustainability takes centre stage on a global level, Australia has emerged as a regional leader in the Asia-Pacific region, committing to establishing climate regulations which are unprecedented in this region. Businesses which operate in Australia must navigate an increasingly complex regulatory framework, which presents multiple potential opportunities and risks. By understanding the implications of net zero legislation, carbon pricing mechanisms and climate disclosure regulations, businesses can gain a competitive edge while contributing to a sustainable future. Terrascope can help businesses uncover the path towards climate resilience.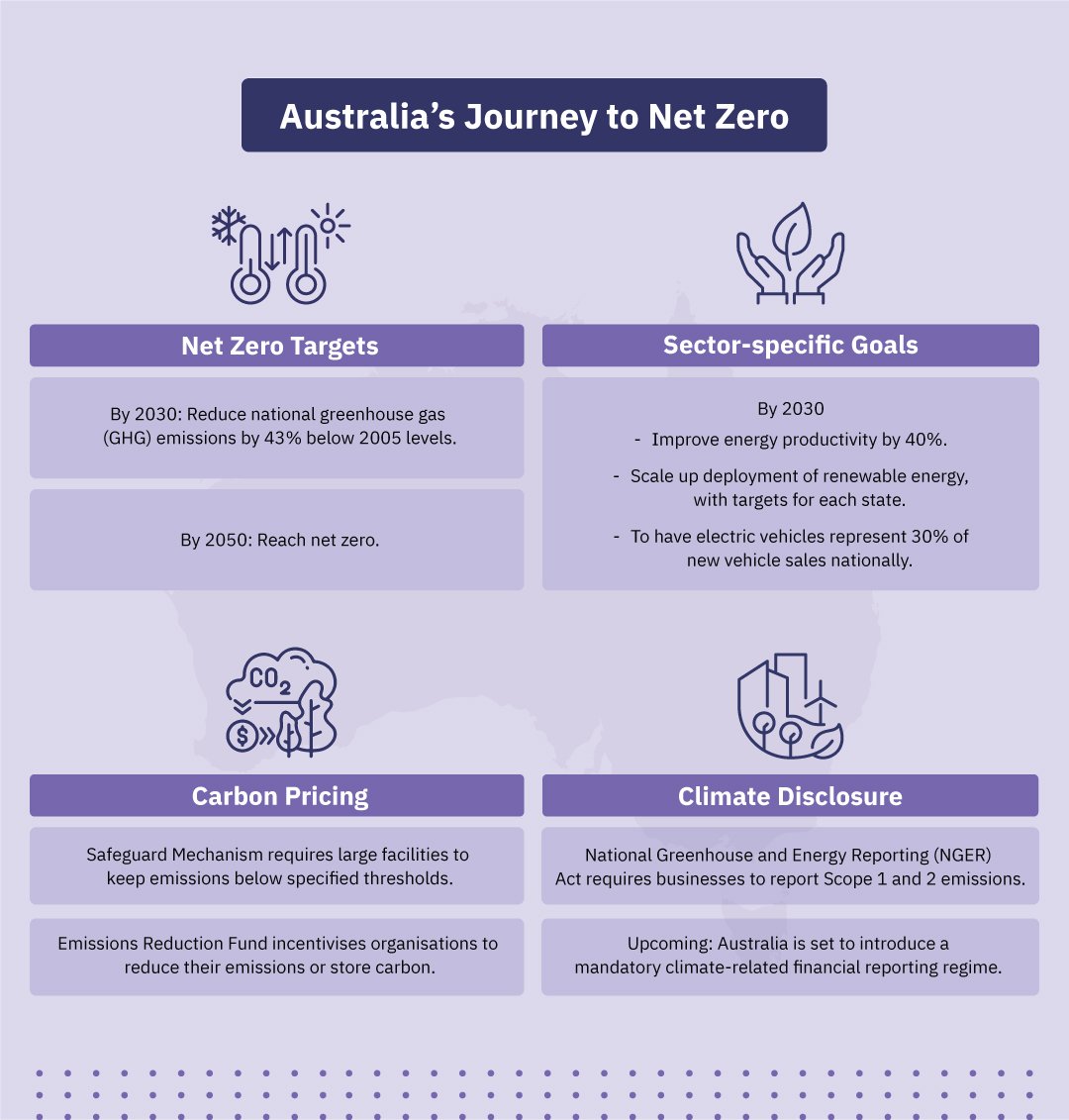 National Targets and Net Zero Legislation
In 2022, the new Labor Government doubled Australia's 2030 emissions reduction target by committing to reduce its greenhouse gas (GHG) emissions by 43% below 2005 levels by 2030. It also set the goal of reaching net zero by 2050.
The national target is also supported at the state and sectoral level. For example, Australia targets to improve its energy productivity by 40% by 2030. It also aims to scale up its deployment of renewable energy – by achieving 100% renewable energy deployment in the Australian Capital Territory and Tasmania, and 50% renewable deployment in Queensland, Victoria and Northern Territory, by 2030. It aims to have electric vehicles represent 30% of new vehicle sales by 2030 nationally, and 50% for New South Wales and Victoria.
These ambitious climate targets make it vital for businesses to prepare accordingly. These represent an opportunity for businesses to use decarbonisation to expand their revenue streams. For example, businesses could pivot towards offering more sustainable products or services. On the other hand, businesses should start taking concrete actions to decarbonise their operations in line with Australia's national and sectoral targets, to avoid facing regulatory or reputational challenges in the future.
Carbon Pricing
Australia has implemented several carbon pricing instruments, which play a pivotal role in supporting Australia's net zero targets. One of these instruments is the Safeguard Mechanism, which requires large facilities to ensure that their emissions do not exceed specified 'baselines' (i.e. thresholds). Facilities which have produced more emissions than these 'baseline' thresholds must offset their emissions. From July 2023, facilities that overachieve on their baseline (i.e. produce less emissions than their allocated thresholds) are allowed to issue credits. This makes the Safeguard Mechanism an emissions trading scheme (ETS). Over time, Australia will tighten the 'baselines', in alignment with its 2030 targets.
Concurrently, Australia has implemented the Emissions Reduction Fund, which is a voluntary scheme that incentivises organisations to adopt new practices and technologies to reduce their emissions or store carbon. Participating organisations can earn 1 Australian carbon credit unit (ACCU) for each 1tCO2e stored or avoided by a project. These ACCUs can be sold to generate income.
These carbon pricing regulations represent both opportunities and risks for Australian businesses. They could potentially increase costs for Australian businesses, for example if their electricity suppliers are unable to switch to renewable electricity sources quickly enough. On the other hand, businesses can seize this opportunity to present a strong financial case to push for investing in decarbonisation levers early, which may reduce business costs over the longer term. Moreover, businesses could use the aforementioned carbon pricing instruments to sell credits and generate revenue.
Climate Disclosure
The third strategy which supports Australia's climate ambitions lies in driving transparency and accountability among businesses. In this regard, Australia has implemented carbon disclosure regulations which mandate the measurement and reporting of carbon emissions. These regulations facilitate the transition to a low-carbon economy by encouraging businesses to reduce their GHG emissions, as well as by enabling investors and financial institutions to make more informed decisions on capital allocation.
One such regulation is the National Greenhouse and Energy Reporting (NGER) Act 2007. This requires affected companies to report their Scope 1 and Scope 2 GHG emissions, energy consumption and production, as well as other relevant information. Both private and public companies are subject to this regulation, and must calculate their GHG emissions in adherence with the NGER (Measurement) Determination 2008.
The Australian Government has also committed to introduce a mandatory climate-related financial reporting regime. This would be more stringent than the existing financial reporting regime, in which Australian businesses are only recommended to report their climate-related performance in alignment with the Taskforce on Climate-related Financial Disclosure (TCFD). Even though Australian businesses are generally proactive in terms of voluntary climate disclosure, this falls short of investors' expectations, who are demanding better quality and internationally-comparable disclosures. The proposed mandatory climate-related financial reporting regulation may require Australian companies to disclose their Scope 1, 2 and 3 GHG emissions and other climate-related risks and opportunities in accordance with the newly-released International Sustainability Standards Board (ISSB) standards. The proposal covers both publicly-listed and privately-held companies, and if approved as law, may commence from as early as FY2024-2025.
Businesses face the risk of penalties if they fail to comply with the NGER and the upcoming mandatory climate-related financial reporting regime, but they can mitigate this risk by embarking on their decarbonisation journey with a trusted platform like Terrascope. By measuring their Scope 1, 2 and 3 emissions accurately, businesses will be able to make sounder decisions on abating their emissions and reduce business costs on the longer term. The evolving regulatory landscape also presents an opportunity for businesses to align their sustainability reporting with internationally-comparable disclosure frameworks, which can enable greater access to green finance.
The Terrascope Solution
Terrascope is an end-to-end decarbonisation platform that helps businesses measure and manage their carbon emissions. Using machine learning and AI capabilities, Terrascope assimilates data from across complex supply chains and fills gaps in data to provide accurate and comprehensive carbon emission calculations across Scopes 1, 2 and 3. By working with Terrascope, businesses can get a thorough understanding of their carbon emissions, broken down by product, geography, process, and more. This, in turn, can drive actionable change in operations and can also help them avoid legal or regulatory penalties.
In particular, the Australian Government's proposal to require businesses to make climate-related financial reporting spell some major changes for Australian businesses, and Terrascope can help facilitate this transition.
Request demo