Princes Group and Terrascope: Enhancing Procurement Readiness for a Sustainable Value Chain
Product Carbon Footprint of Key Products and Corporate Emission Measurements in 8 Weeks
Introduction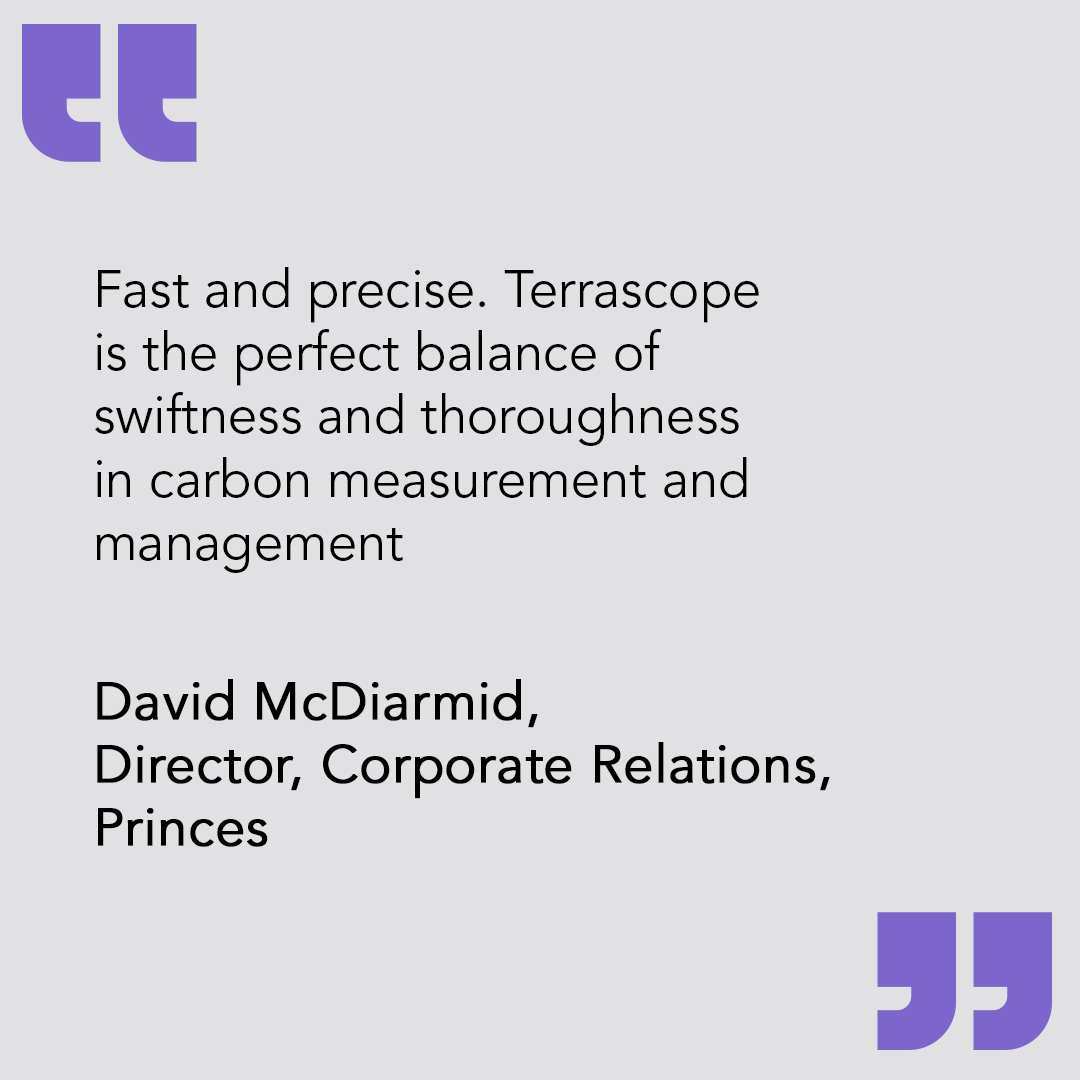 The Princes Group, headquartered in Liverpool, UK, is a leading food and beverage company that has been delighting customers with a wide variety of high-quality products since 1880. With a strong commitment to innovation and responsible sourcing, Princes offers an extensive range of canned and packaged goods, including fish, meat, fruit, pastes, and ready meals, as well as a diverse selection of fruit juices.

As a company with a global footprint and a complex supply chain, Princes takes its sustainability responsibilities seriously. They have continuously strived to minimise their environmental impact by adopting a sustainability strategy that focuses on sustainable sourcing, stewardship across global consortiums for sustainable fishing practices, promoting responsible packaging, and supporting ethicaland transparent supply chains.

In line with these commitments, Princes partnered with Terrascope, an end-to-end decarbonisation platform, to further advance their sustainability initiatives and build a more sustainable value chain.
Measuring Scope 3 Emissions



Princes planned on proactively sharing Scope 1, Scope 2 and Scope 3 emissions of their products in line with the expectations of large UK supermarkets, and develop future ready products with potential carbon and emission labels. Princes also wanted to get started on their decarbonisation journey by setting targets in accordance with the Science Based Targets Initiative (SBTi), to be better prepared for the upcoming regulations in the UK, such as the Corporate Sustainability Reporting Directive (CSRD) and Carbon Border Adjustment Mechanism (CBAM).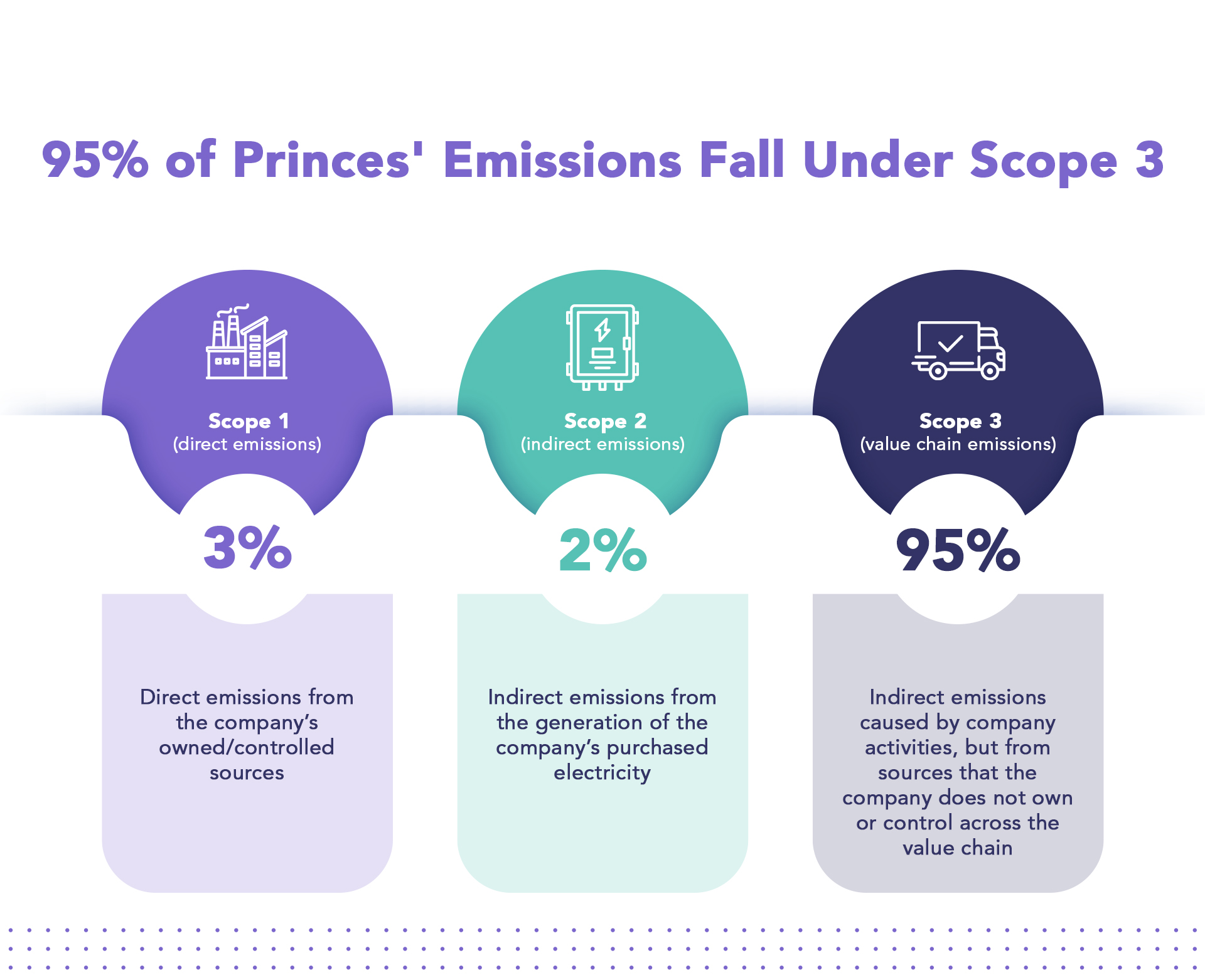 Although they had been able to measure their Scope 1 and Scope 2 emissions, Princes faced difficulties measuring their Scope 3 emissions due to the complexity of their global supply chain. The collection of accurate data and monitoring of emissions presented significant challenges, compounded by multiple internal transfers of ingredients and raw materials within Princes' entities, often leading to potential double counting.

To address these challenges, Princes turned to Terrascope to leverage their decarbonization platform and sustainability expertise to effectively measure, monitor, and reduce their Scope 3 emissions while meeting the transparency requirements of their sustainability conscious UK supermarkets. Terrascope's technology enabled Princes to gain a better understanding of their environmental impact and create a roadmap towards their decarbonization goals, in less than eight weeks from the start of measurement.
Product Carbon Footprint:
Recipes
In addition to estimating carbon footprints for their business units, in order to be able to share its emissions with large UK supermarkets at a product level, Princes aimed to estimate the carbon footprint apportioned by individual products and product units of certain key products. This information would enable Princes' customers to develop a better understanding of their own emissions. To address this unique challenge, sustainability experts from Terrascope collaborated with Princes to break down their products by their recipes and ingredients. The emissions factors of these constituent ingredients were matched using Terrascope's Machine Learning Algorithm, enabling Princes to estimate their product emissions with 92% accuracy.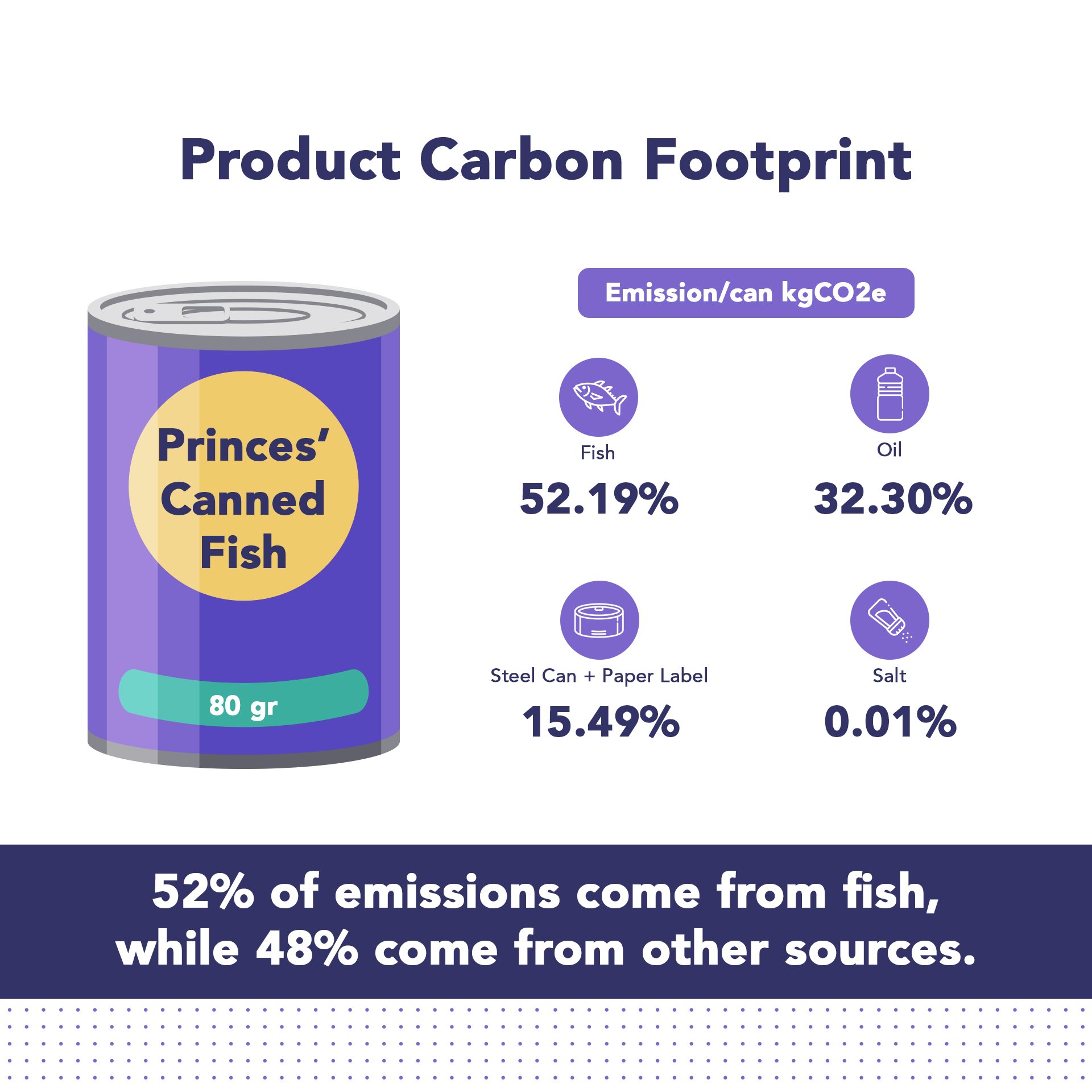 Tackling Emissions
The Terrascope Platform revealed that Princes' top five activities accounted for 62% of their overall emissions, with the top 30 activities accounting for 99% of the reported emissions. This finding allowed Princes to focus their emission reduction efforts on a few activities and related ingredients. Two meat ingredients contributed cumulatively to 23% of the total emissions, with one of them having an emission factor 17 times higher than the average emission factor of all other Princes' ingredients. To reduce emissions related to these ingredients, Princes is exploring sourcing strategies involving areas with lower emission intensity, such as Europe and Canada, and collaborating with suppliers to reduce emissions. Another source of emissions related to these two ingredients came from transportation-related diesel usage and anti fouling paint used in processing. With a more precise understanding of their emissions sources, Princes can now focus on the highest impact reduction activities to achieve their sustainability targets.
DRIVING VALUE
Team Productivity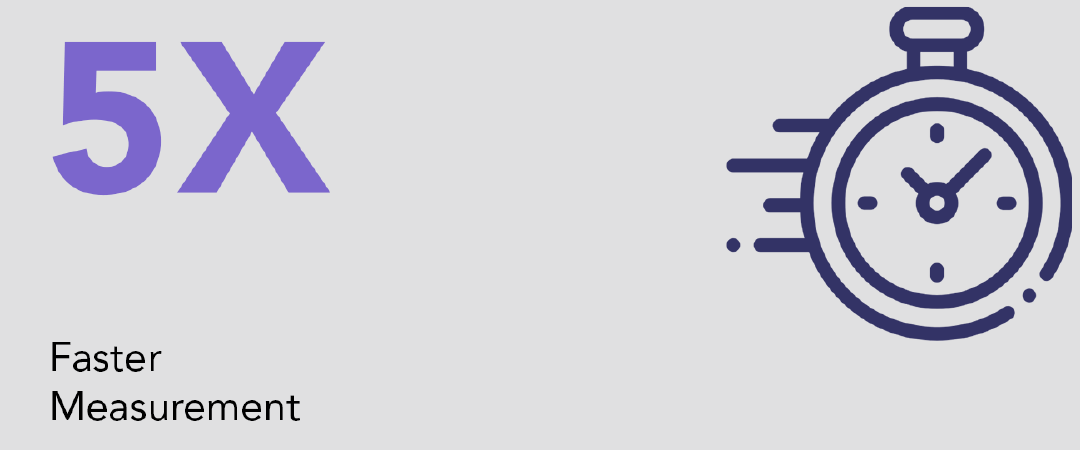 The Terrascope solution also amplified the time and resources of Princes' Supply Chain Management team. With a comprehensive and granular view of its carbon emissions across products built in under eight weeks, the sustainability team at Princes was able to focus on key areas for improvement and make more strategic decisions, rather than data assimilation and reporting.
Operational Resilience
The Terrascope solution not only provided Princes with a more comprehensive understanding of its carbon footprint but also helped to build operational resilience. By understanding its Product Carbon Footprint better, Princes built the ability to share emissions of their products and SKUs with their buyers, such as the large supermarkets across the world. Understanding their PCF also helped Princes be better prepared for the upcoming Carbon Emission Regulations in the UK.
Confidence & Reliability
The Terrascope platform also helped Princes build a deep and accurate understanding of the emissions hotspots, with emissions estimated entirely on granular activity data, ensuring high confidence on emission estimates. Terrascope also optimized for future data accuracy, by identifying the largest gaps in the Princes value chain on data availability.
Request demo