Future Proofing a Supply Chain: MC AGRI ALLIANCE
MC Agri Alliance is a joint venture between Mitsubishi Corporation and Olam International Limited that imports and distributes coffee, cocoa, sesame, edible nuts, spices, vegetable ingredients and edible oil in Japan. The venture combines Olam's global supply chain networks for sustainable agricultural products and food ingredients with Mitsubishi Corporation's extensive distribution and sales network in Japan.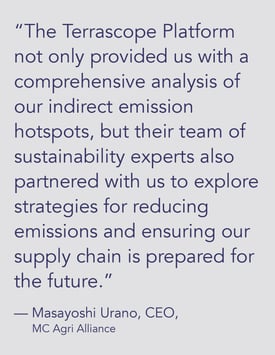 Embracing Sustainability
MC Agri Alliance is committed to implementing sustainable practices throughout its supply chain, from sourcing raw materials to distribution, in order to offer high-quality, sustainable products to its customers. The company aims to create a supply chain that is future-ready, with a strong focus on environmental impact, in order to meet the growing demand for sustainable products and to be prepared for a future in which environmental considerations play a larger role in purchase decisions.
Scope-3 Emissions
MC Agri Alliance recognized the opportunity to reduce its overall emissions by focusing on Scope-3 emissions, which are indirect emissions from the supply chain. Scope-3 emissions contribute to over 85% of a large enterprise's total emissions, so the company aimed to build a comprehensive baseline for these emissions.
Terrascope Platform
To comprehensively measure and manage their Scope-3 emissions, MC Agri Alliance onboarded Terrascope, an enterprise-grade SaaS Carbon Measurement and Management Platform. The platform enabled easy ingestion of raw data and ML techniques to automatically match activity data with relevant emission factors. The platform also provided a user-friendly dashboard that enabled identification hotspots to plan for next best actions, as well as simulations of reduction scenario.
Optimizing the supply chain for lower emissions
The Terrascope Platform enabled a reduction simulation, through which MC Agri Alliance discovered an opportunity to reduce emissions by altering their procurement routes and processing methods. The simulation results revealed two scenarios for procuring a raw material from Africa:
Scenario 1: The raw material is shipped from Africa to Japan directly for processing.
Scenario 2: The raw material is shipped from Africa to Singapore for processing and then to Japan.
Scenario 2 resulted in a potential reduction of emissions by nearly 25% for MC Agri Alliance. This is because Singapore has lower emission factors of electricity due to its dependence on natural gas as a power source, and the processing reduces the weight of the material, leading to less transportation-related emissions.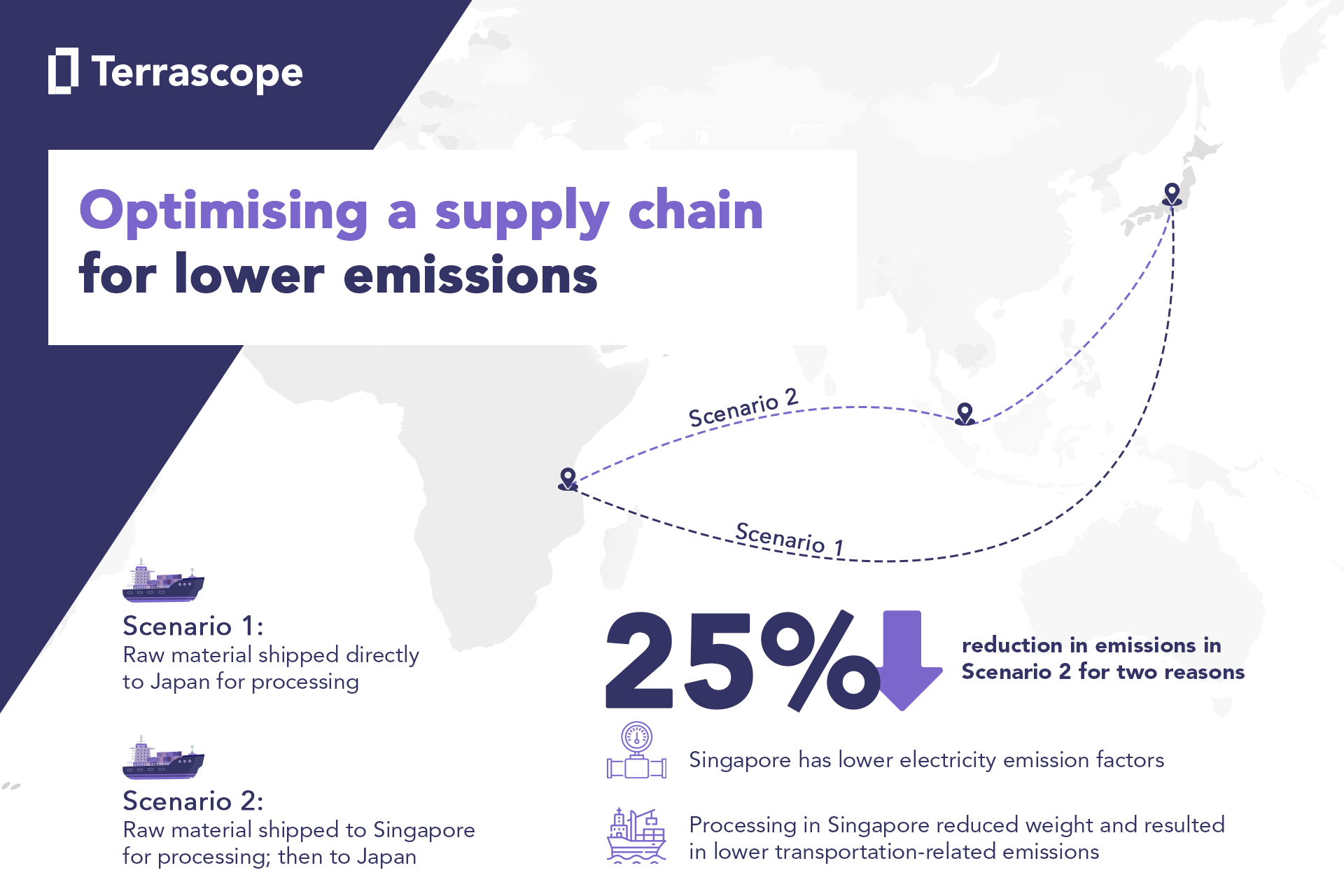 This example demonstrates the impact of Terrascope's data granularity and sustainability knowledge oncreating more sustainable supply chain and logistics management options.
Looking Forward
MC Agri Alliance will continue to rely on the Terrascope platform for making measurement a repeatable and continuously refined process, enabling the sharing of emissions data with the broader organization through the use of intuitive dashboards. The company will also collaborate with Terrascope's experts to go deeper into their supply chain and proposing low GHG emission farming and logistics routes to the customers to reduce Scope 3 emission together in near future.
Driving Value
Future-proofing the supply chain by identifying and reevaluating parts of the supply chain that needed optimization. Building a repeatable and scalable emission measurement process for periodic reporting and disclosure.
Request demo