Scaling Carbon Footprint Of Product Units
Insights from Terrascope's analysis of Pokka's Supply Chain and Implications for Sustainable Procurement
Emission estimate of 4980 SKUs in 100 mins

Introduction
Pokka, a leading beverage company in Singapore and Asia-Pacific, has been known for its continuous focus on innovation and sustainability. As part of its commitment to sustainability, Pokka recently launched a Singapore unit with the objective of ensuring sustainability through cutting-edge technology in building features, manufacturing facilities and equipment, distribution and logistics, new processes and bottling materials. Pokka was also keen on taking its carbon measurement and management efforts to the next level to make better procurement decisions. They wanted to get a comprehensive Scope-3 measurement system in place, and understand its implications on their supply chain, especially on their packaging. They understood the value in differentiation as a leading beverage company on sustainability, and wanted to be better prepared for a more sustainability-conscious consumer.
The Challenge
One of the main challenges faced by Pokka was obtaining a comprehensive understanding of their carbon footprint, since they had only measured Scope-1 and Scope-2. Scope-3 emissions, which contribute to over 85% emissions largely coming through indirect emissions in their supply chain, were difficult to estimate because of the complexity of their operations and supply chain, and the unavailability of data. The data came from multiple facilities and different sources, which had to be collected and analyzed.
Pokka also faced unique challenges on their supply chain, since their distribution consisted of different types of products :
Products that were manufactured entirely by Pokka
Products whose ingredients were imported by Pokka, and then exported to OEMs for manufacturing.
Finished products that they imported and distributed as is.
Due to a lack of emissions factor data from their suppliers at the product level, Pokka required finished products to be broken down into their ingredients and manufacturing processes to calculate emissions accurately.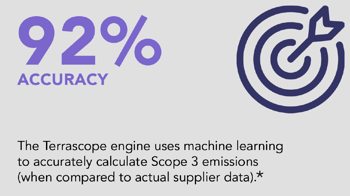 Ingesting Data
Once Terrascope was onboard as the platform of choice for carbon measurement and management, Terrascope put in place a comprehensive plan for Pokka to measure, manage, and optimize its carbon footprint. Given the complexity of data that came from multiple facilities across a variety of formats, Terrascope needed to assimilate from across supplier platforms, build an understanding of relevance, and fill gaps in unavailable data through Terrascope's machine learning capabilities.
Within three weeks, the data ingestion process was completed, offering Pokka a scalable and easily replicable platform for emission data that was 5 times faster than their usual manual process.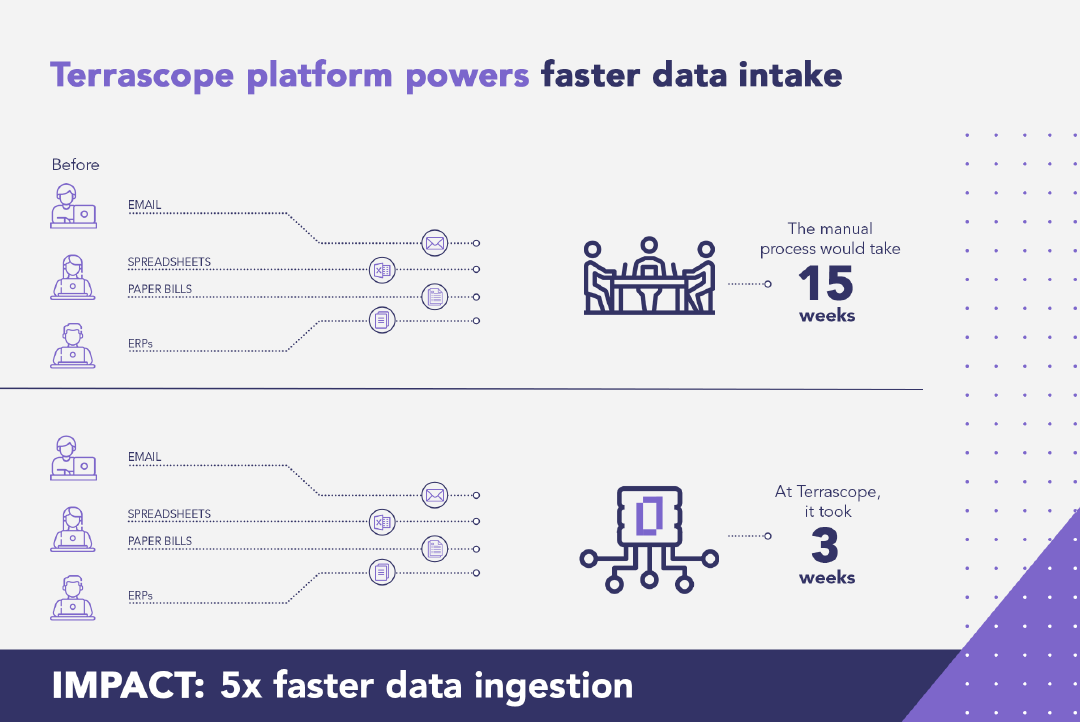 * Based on testing with sample data of ~700 SKUs from the processed foods industry.

Unit Carbon Emissions
A challenge unique to Pokka was the calculation of emissions of products that the company did not manufacture. This included both finished products that they imported and distributed, as well as raw materials that they imported and exported for manufacturing. The unavailability of unit level, or SKU level, emission data made it difficult for Pokka to build a comprehensive view of their Scope-3 emissions. Terrascope worked on the product carbon footprint approach, and calculated the emission footprint from cradle to gate (manufacture to the time the product arrives at Pokka's warehouse) to arrive at the unit carbon emissions of each SKU. This involved using Terrascope's ML to break down the product and its packaging into its constituents and to match the most accurate emission factors for each component. Terrascope's ML, capable of estimating with over 92% accuracy the upstream emissions per unit product compared to actual supplier data**, estimated the emissions of ~5K SKUs in under 100 minutes. Using the unit carbon footprint approach, Terrascope was able to provide Pokka with a comprehensive understanding of its supply chain and the sources of its emissions. Pokka was able to accurately measure the carbon footprint of each product, even if it did not receive any details of its emissions from its suppliers.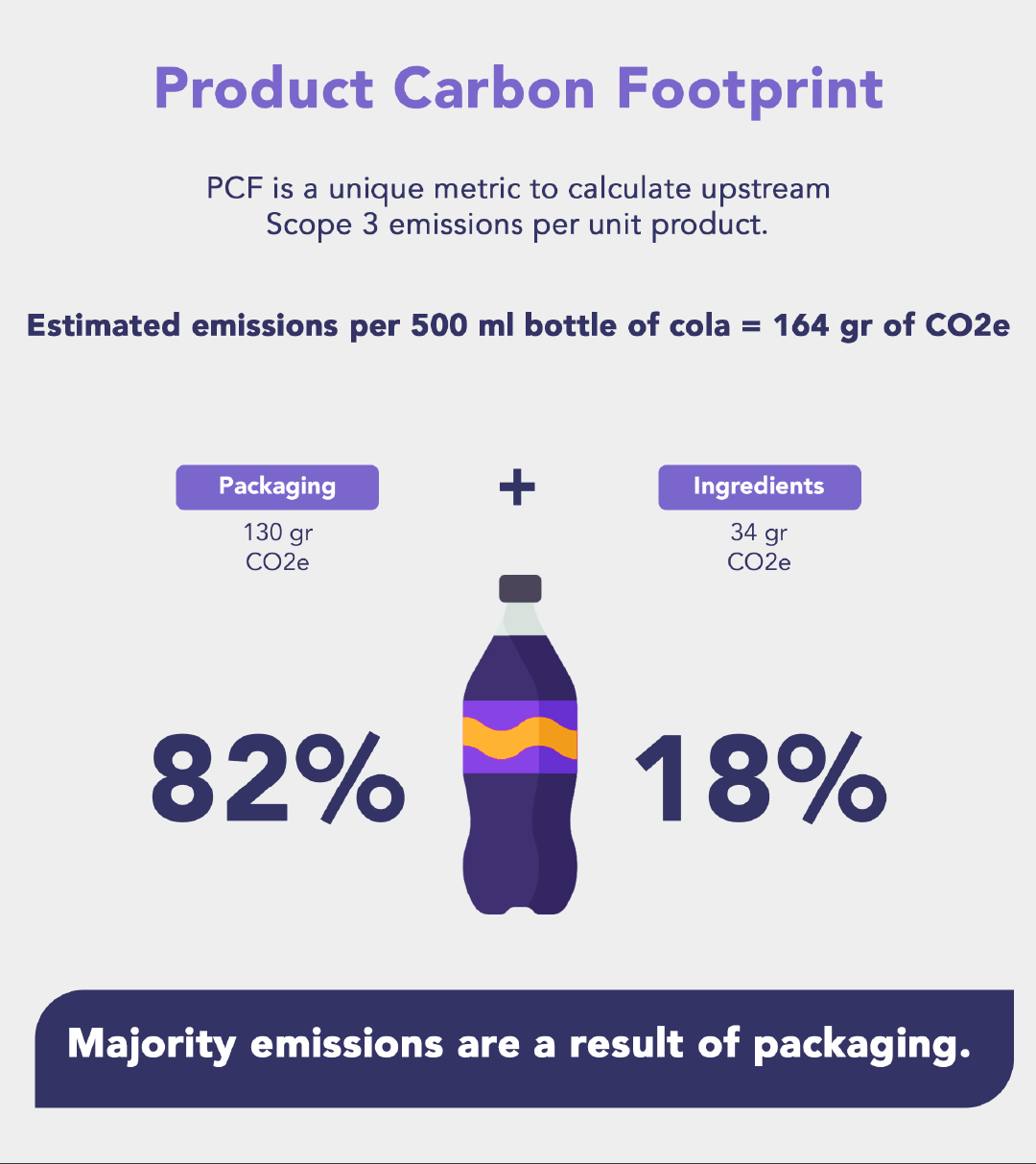 Managing emissions of products that a company doesn't manufacture
While understanding emissions of the products that Pokka didn't fully manufacture was one part of the challenge, managing these emissions to result in actionable reductions was harder. The Terrascope platform helped unearthed a number of deep insights that helped Pokka delve deeper into managing their overall emissions, even though they couldn't directly control the emissions of the products they distributed.
Focus on Packaging
On the products that Pokka bought and distributed as finished products, the largest emissions were not from the products themselves but their packaging, such as shrink wrap for cans. Terrascope simulated scenarios that helped Pokka evaluate scenarios for sourcing packaging with lesser emissions. This exercise provided Pokka with a more comprehensive understanding of its supply chain, including the sources of its emissions and opportunities for reducing them.
** Based on testing with sample data of ~700 SKUs from the processed foods industry.
Evaluating Ingredients and Land Use
On some products that Pokka imported and distributed, a substantial contribution of emissions came from certain ingredients. Interestingly, the cultivation process for these ingredients was found to be one of the top three emission sources. The reason being the impact of land use change, pertaining to emissions that need to be accounted for in the case of conversion of a forest land to farmland, in order to cultivate the said ingredient. This revelation led Pokka to rethink some of their sourcing strategies, and evaluate procurement from geographies which have favorable land use emissions.
THE VALUE OF TERRASCOPE'S SOLUTION
Operational Resilience
The Terrascope solution not only provided Pokka with a more comprehensive understanding of its carbon footprint but also helped to build operational resilience. By understanding its carbon footprint and supply chain more comprehensively, Pokka was able to identify potential opportunities in their supply chain to lower emissions, and build towards a more resilient supply chain.
Team Productivity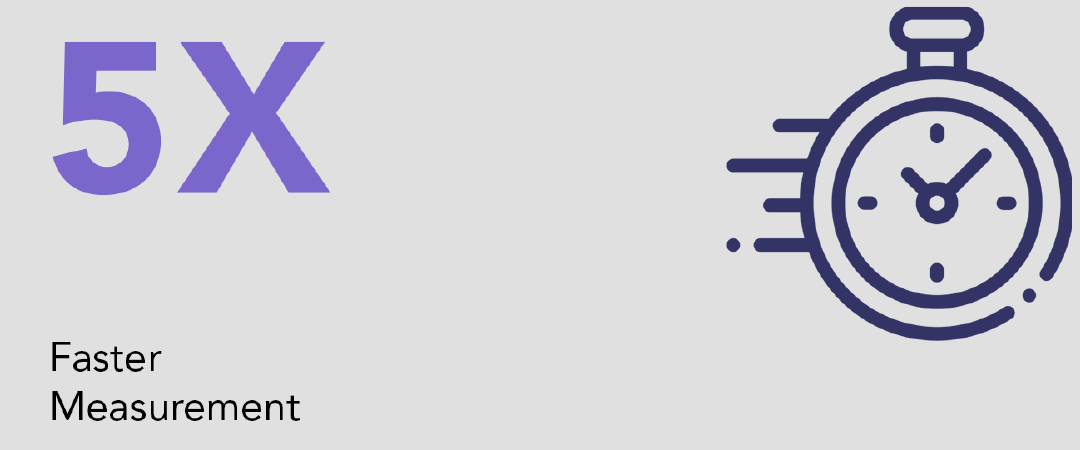 By ingesting data five times faster than the manual process, the Terrascope platform freed up the team's valuable time and resources that were previously spent on data assimilation and reporting. With a granular and accurate view of its carbon emissions and supply chain, the sustainability team was empowered to focus on key areas for improvement and make more impactful and strategic decisions towards a more sustainable future.
Request demo