Manage Data
Leverage sector specific data templates or submit data in your own formats, and the Terrascope platform will autonomously ingest and process the information, build data profiles, and fill in the missing pieces.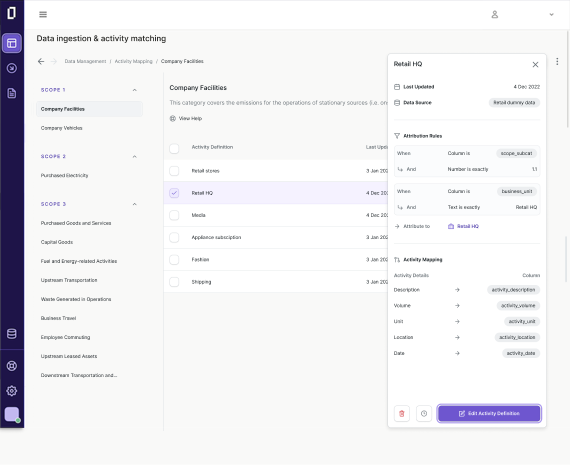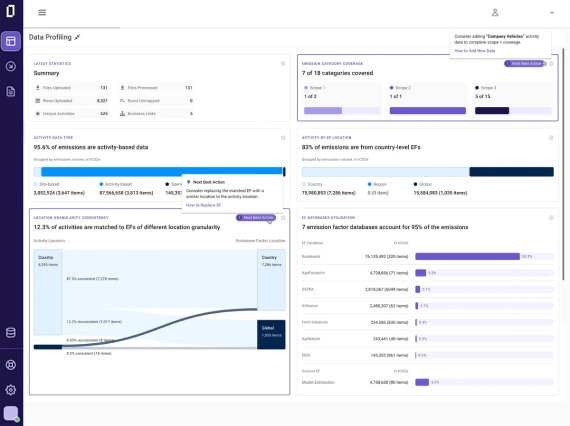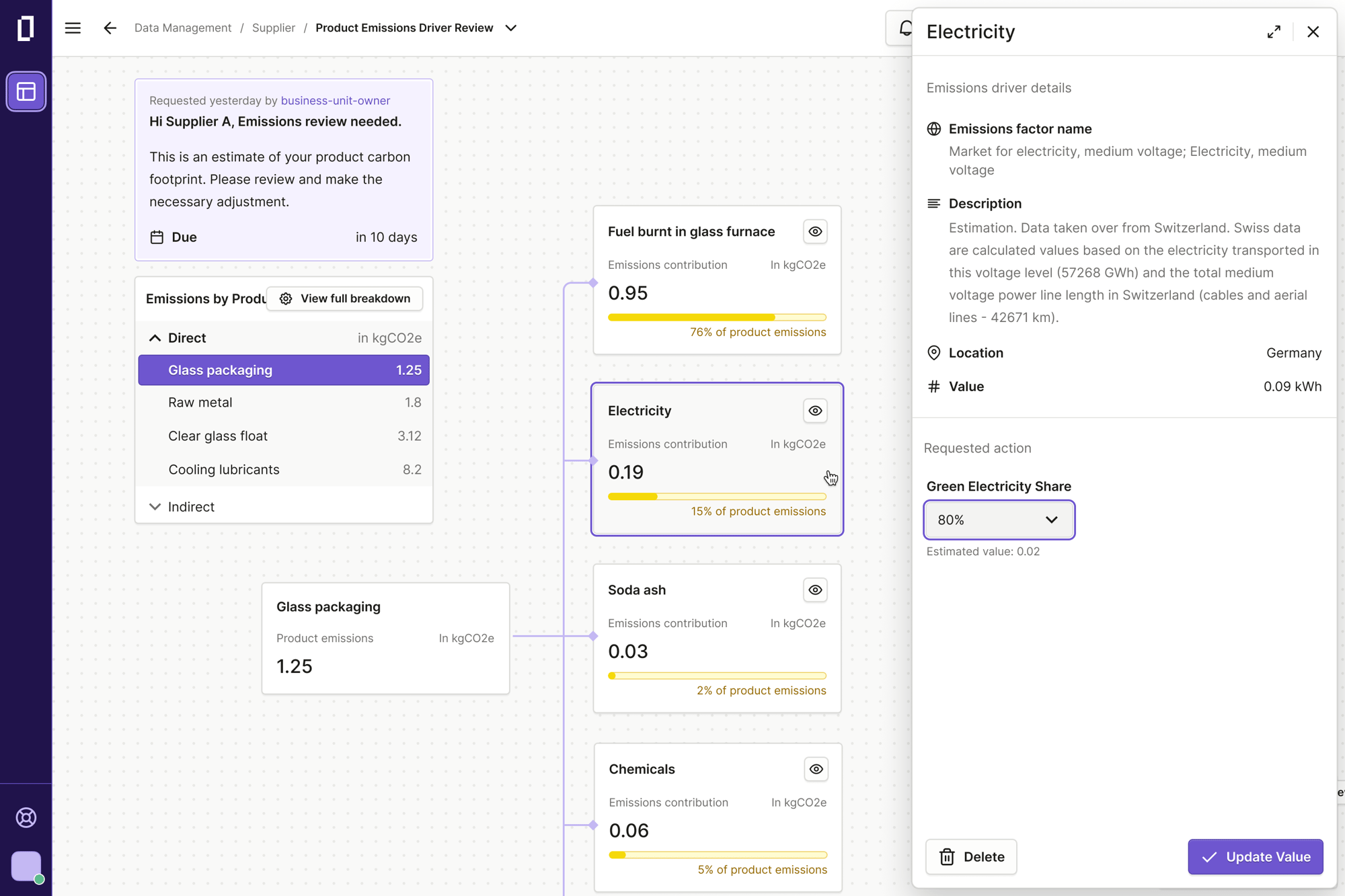 Leverage AI-powered emissions modelling to plug upstream or downstream data gaps in your emissions footprint. The Terrascope platform generates granular emissions data, providing clear visualisations of underlying drivers, boundaries and categorisations (e.g. FLAG vs non-FLAG). Our expert workflows enable you to tailor a Carbon Driver Tree that aligns with your business or supplier-specific processes.
Measure Emissions
Gain a comprehensive and granular understanding of your emissions footprint, analyse hotspots and drill down into emissions drivers, and pinpoint where to focus supplier engagement and data gathering efforts.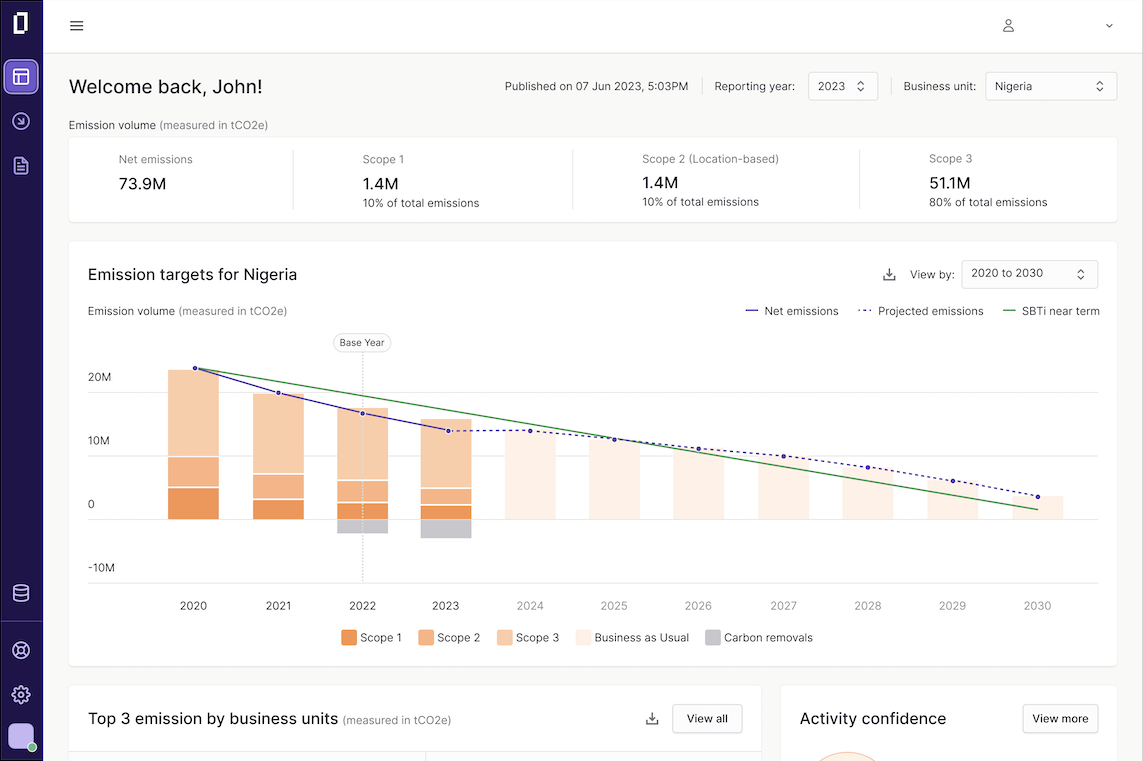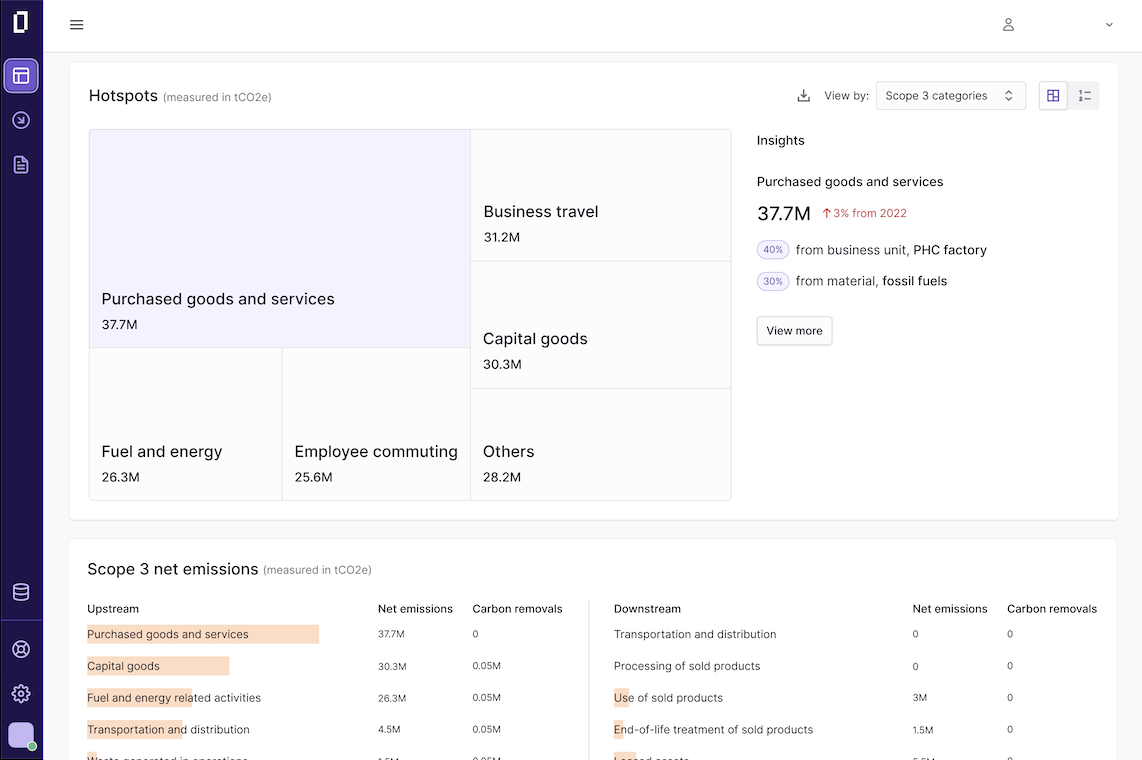 Understand emissions within your enterprise's value chain. Leverage the Terrascope platform to identify emissions hotspots by countries, business units, factories, or processes, and pinpoint hotspots with the highest emission contributions for the most impactful decarbonisation actions.
Plan Reductions
Unlock the power of foresight with Terrascope's dynamic 'what-if' simulations. Explore and compare the impact of specific actions on your value chain, emissions targets, and net zero climate strategy.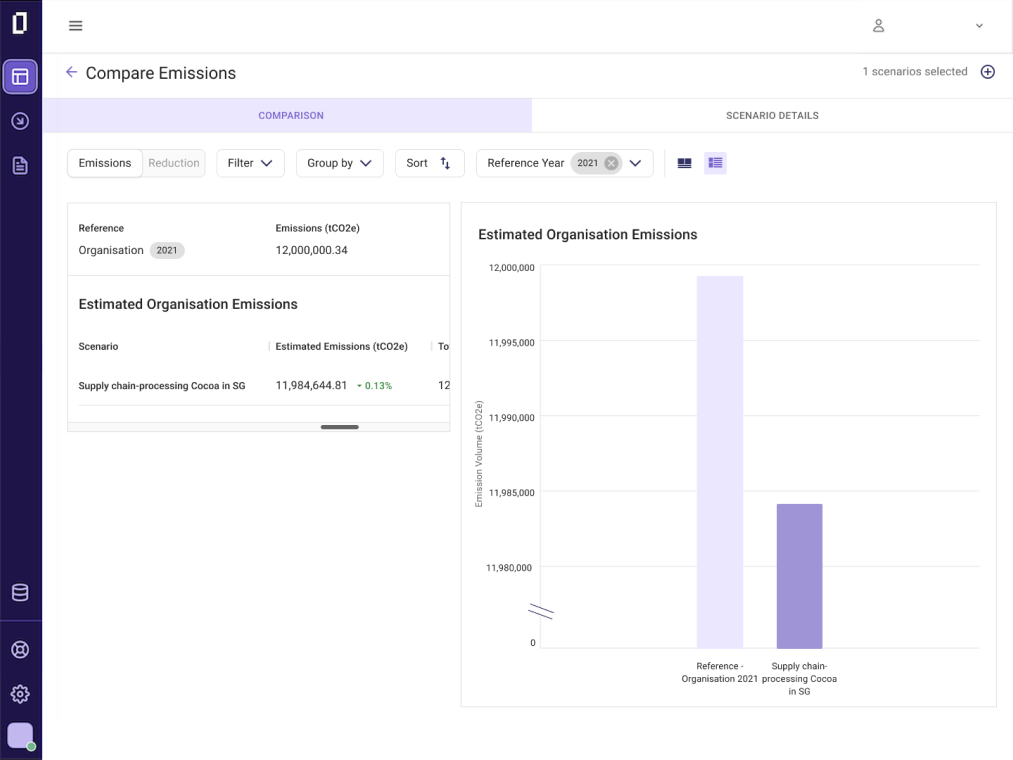 Build and evaluate 'what-if' scenarios, enriched with financial, feasibility and benchmarking data. If you're unsure where to begin, Terrascope provides AI-generated decarbonisation recommendations tailored to your sector and organisational priorities. Uncover opportunities for impactful reductions, along with areas for further investigation.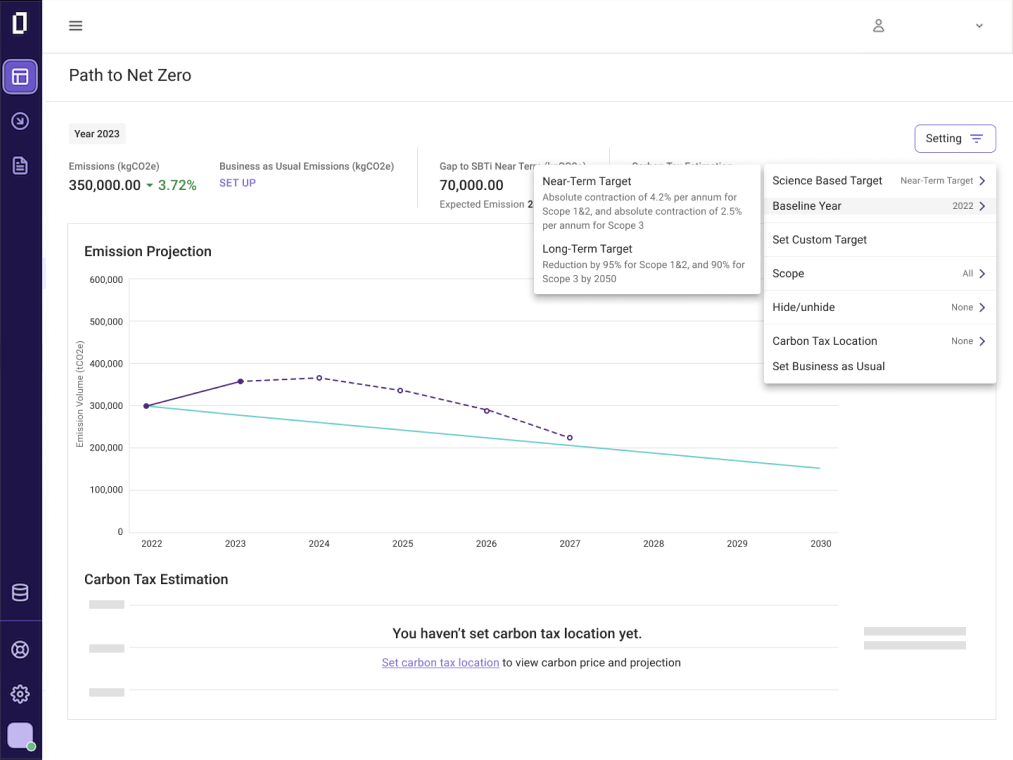 Embrace future-forward analytics to establish targets aligned with SBTi guidance on reductions, and layer in real-world data to model potential climate risks. Terrascope goes beyond the platform by offering collaboration opportunities with our Sustainability Experts and Carbon Data Analysts who are ready to provide guidance to your teams.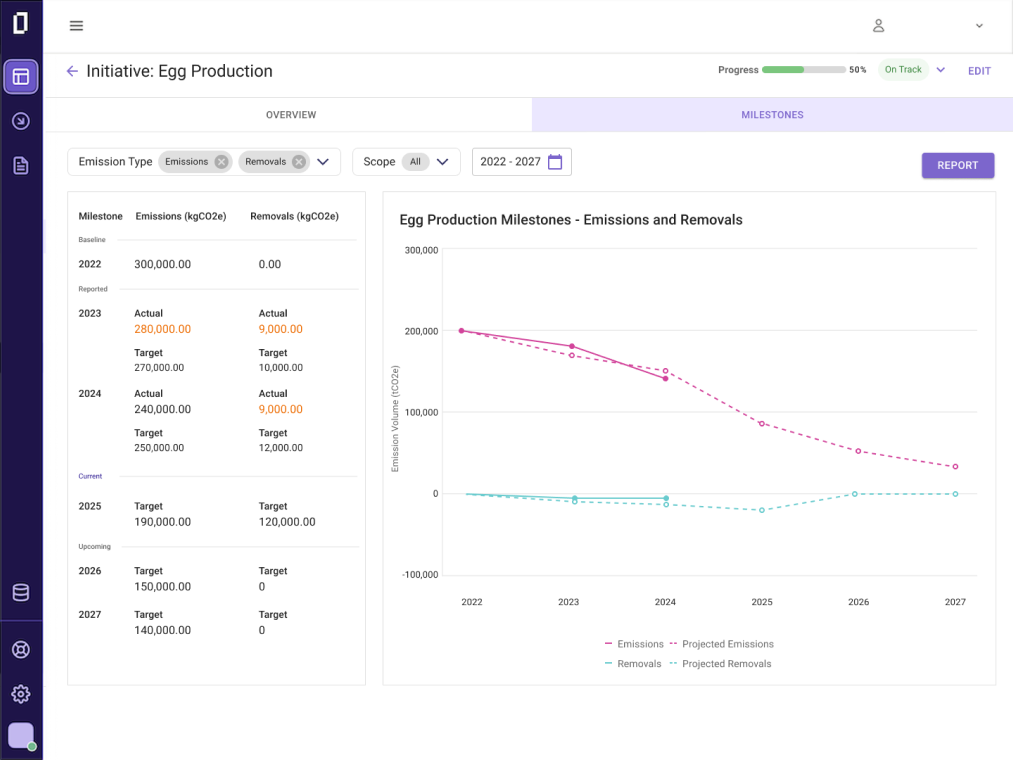 Consolidate the most relevant and impactful 'what-if' simulations from the Terrascope Platform into a Climate Scenario that will lead your enterprise towards net zero. With Terrascope's assistance, set up initiatives with clear owners and intermediate milestones, translating your goals into action plans.
Implement
Monitor progress of reduction efforts against long term and intermediate targets, enhance collaboration with shared dashboard views, and simplify reporting through seamless integrations.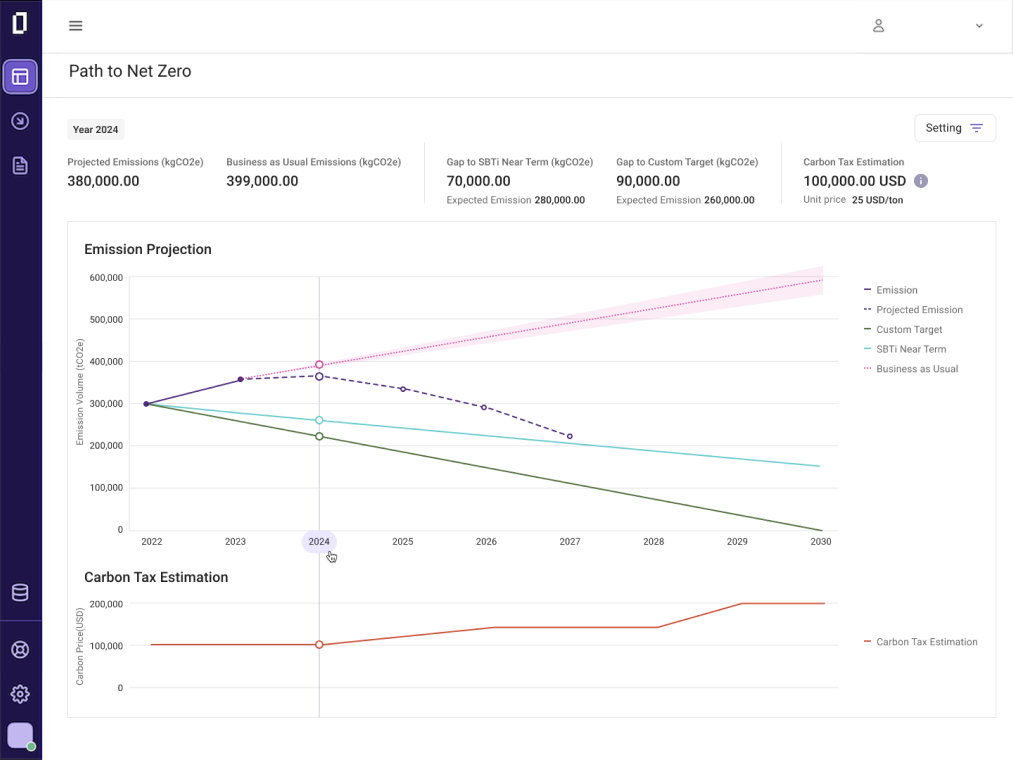 Monitor emission reduction efforts, and evaluate progress towards achieving net zero targets across your value chain. Discover the power of Terrascope's unique Activity Lineage feature, which identifies the factors driving year-on-year changes in emissions measurements, uncovering any inconsistencies in approach, data coverage, data granularity or EFs used.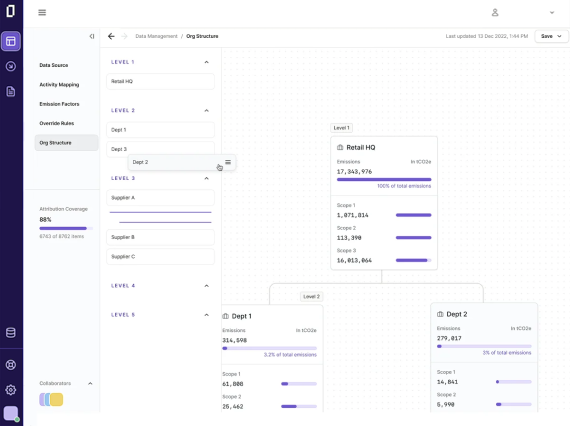 Collaborate seamlessly on sustainability and decarbonisation initiatives, both internally and externally. Use the Terrascope platform to provide teams working on the ground with emissions data dashboards relevant to their work, unlocking collaboration within your organisation and with external partners to support data gathering, reduction initiatives, and progress tracking.
Independent Assurance of the Terrascope Platform
Ernst & Young LLP has provided limited assurance over the GHG Accounting Methodology used for the Terrascope Platform, against the Principles of Greenhouse Gas (GHG) Protocol Corporate Accounting and Reporting Standard for greenhouse gas inventories and the Principles of ISO 14064-1: 2018 / SS ISO 14064-1: 2021 – Greenhouse gases – Part 1: Specification with guidance at the organization level for quantification and reporting of greenhouse gas emissions and removals on 29 September 2023.