Terrascope signed the Climate Pledge to commit to reaching
net-zero carbon by 2040
Since launching in 2022, we have been committed to meaningful climate action and leading by example. While the Terrascope platform has helped companies prioritise transparency in their emissions reporting, we have stayed true to our own emissions disclosures. We report our greenhouse gas (GHG) emissions year on year, along with the actions we are taking to reduce them.
Terrascope's emissions in 2022 amounted to 313 tonnes of CO2e, with 0.3% being Scope 1, 1.7% being Scope 2, and 98% being Scope 3 emissions. We plan to reach net zero emissions by 2040, 10 years before the Paris Agreement's 1.5°C-aligned targets.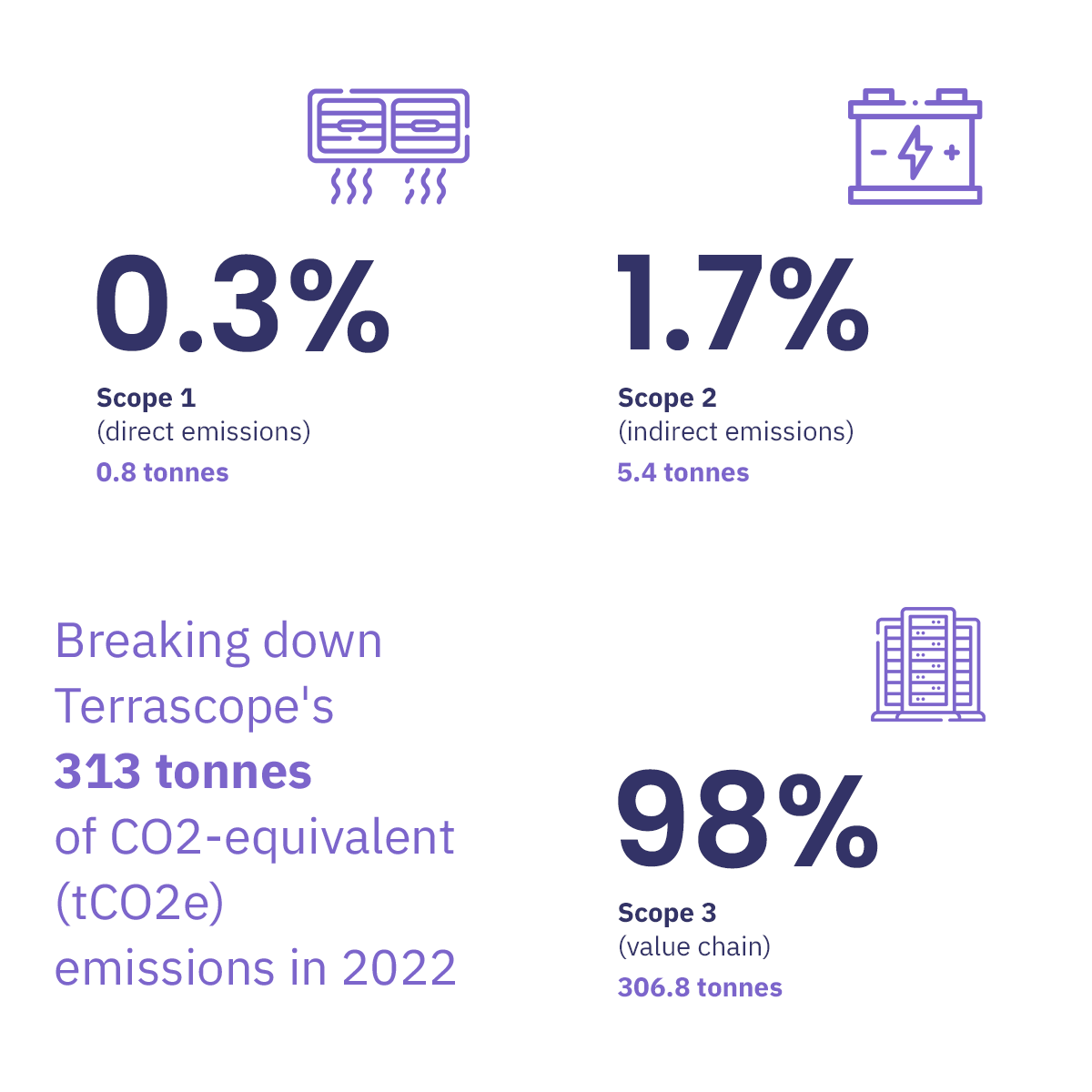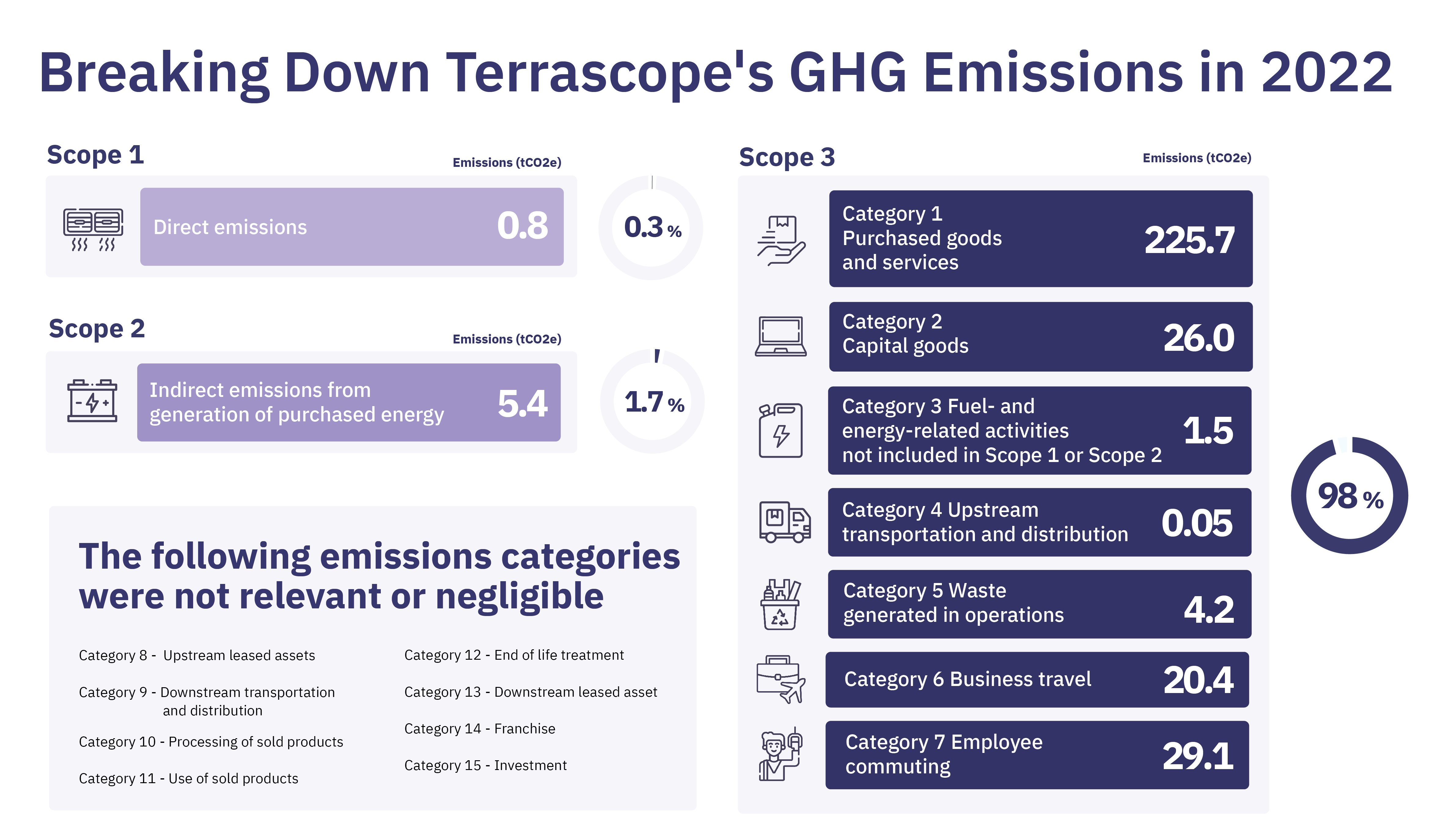 Our
Strategy and Decarbonisation Levers
To make significant strides on our decarbonisation journey, we used our SaaS platform to forecast our business-as-usual emissions growth to 2030 and prioritise the most impactful reduction efforts. As part of our net zero strategy, we identified five priority actions towards reducing our greenhouse gas emissions within our operations and value chain, in order of priority – platform efficiency, business travel, supplier engagement, renewable energy, and actively improving our air conditioning systems.

Platform Efficiency
We have migrated our SaaS capabilities to AWS and improved sustainability in the cloud through efficient programming languages, adopting modern algorithms, using efficient data storage techniques, using renewable energy, and others.
We plan to reduce emissions by 1,570 tCO2e below Business-As-Usual (BAU) in 2030 by implementing sustainable product design. Doing this can decrease the platform's energy consumption by 50% across user devices and cloud storage.

Business Travel
We aim to reduce emissions by 279.3 tCO2e below Business-As-Usual (BAU) in 2030, by setting a carbon cap at 1.5 times the level of 2023 business travel measurements, covering flights and hotels.
We will institute an internal carbon budget for travel emissions to prioritize air travel only when critical.

Supplier Engagement
We rent 90% of our IT equipment from circular economy providers to reduce e-waste, improve efficiency, extend the lifespan of IT equipment, and ensure proper disposal of end-of-life devices.
We will design a supplier engagement programme, starting engagement with priority suppliers.

Renewable Energy
We plan to reduce energy emissions by 22.7 tCO2e below Business-As-Usual (BAU) in 2030, by purchasing renewable energy certificates (RECs) for 100% of the electricity consumed in offices.

Air Conditioning
We aim to reduce emissions by 12.2 tCO2e below Business-As-Usual (BAU) in 2030.
We will do so by switching to lower global warming potential (GWP) refrigerants and improving usage to reduce electricity consumption by 15%.
Episode #4:
Supply Chain Transparency with Anna Stanley-Radière
Join us as we deep dive into Supply Chain Transparency with Anna Stanley-Radière, Director for Climate Transparency at the World Business Council for Sustainable Development (WBCSD). The discussion covers Anna's professional journey that led her to this role at WBCSD, the origin story of PACT and the Pathfinder Framework and the key problems they address.
The first of bimonthly fireside chat series where Lia Nicholson, Head of Sustainability, Terrascope delves into the importance of data on climate action, green tech and ESG, with Dr Angel Hsu, Founder/Director of the Data-Driven EnviroPolicy Lab and Assistant Professor of Public Policy and Environment, Energy and Ecology at the University of North Carolina-Chapel Hill.
This second episode of Terrascope's Climate Cafe is a special one, as we are featuring not one, but three eminent guests. Join us as Lia sits down with members of Terrascope Sustainability Advisory Council – Claire Perry O'Neill, Karen Coyne and Mari Kogiso – to unpack climate disclosures as a catalyst for climate action – from the financial, regulatory and corporate perspectives.
Joining us in the latest instalment of Climate Cafe, is CDP's Thomas Maddox, Global Director of Forests and Land. With over 20 years of experience working in different environmental organisations, and being known for his "Heart of Borneo" initiative that that highlighted the value of natural capital, he draws on his wealth of experience to shed some light on the current status of deforestation and biodiversity loss.
Listen in with our
Climate Café Podcast
Episode #4:
Climate Disclosure with Dr Sue Armstrong Brown
Episode 4 will be featuring Dr Sue Armstrong Brown, to chat about her early days in environmental research to steering CDP's two-decade journey. Dr Brown shares insights that shape our path to a net-zero, nature-positive future.
Episode #3:
Defining Sustainability with Mari Kogiso
Episode #3 will be featuring Mari Kogiso to talk about her remarkable career and her insights into climate disclosures and their role in investment decisions, tips for avoiding greenwashing and the sustainability landscape in Japan.
Episode #2:
Corporate Decarbonisation with Karen Coyne
Episode 2 will be featuring Karen Coyne to chat about her career and her corporate leader's perspective on achieving success in decarbonisation. With her wealth of experience, she offers up valuable advice for Sustainability Officers starting out.
Episode #1:
Climate Policy with Claire Perry O'Neill
Episode 1 will be featuring Claire Perry O'Neill, to talk about her career, about crafting policies for net-zero, her thoughts on this year's COP28 climate conference and how she juggles competing stakeholder interests to ultimately deliver collaborative action.
Our
Sustainability Council
Terrascope's Sustainability Advisory Council, comprised of seasoned sustainability leaders with decades of experience in global markets, signals our company's commitment to empowering enterprises worldwide on their journey toward decarbonisation.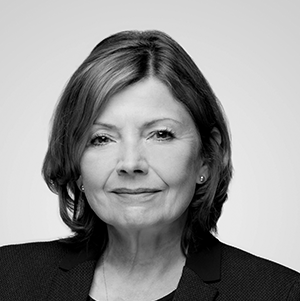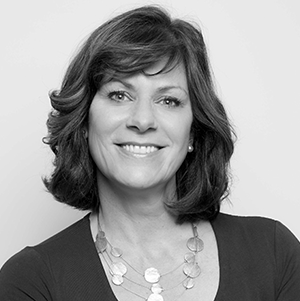 Claire Perry O'Neill served as Minister of State for Energy and Clean Growth, and created the UK's Clean Growth and Green Finance Strategies. She served as as COP26 President-Designate, and now co-chairs the global Imperatives Advisory Board at the World Business Council for Sustainable Development.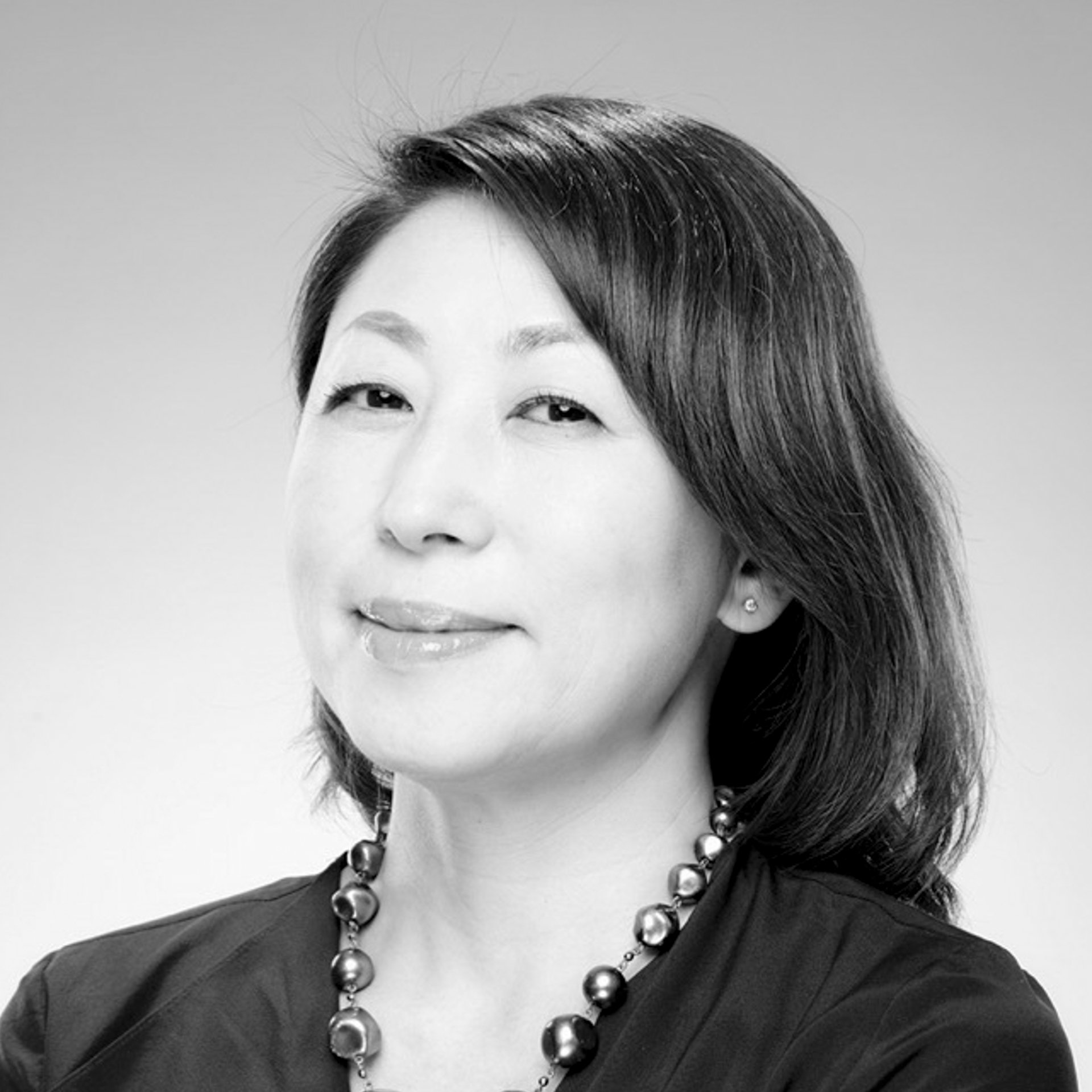 Mari Kogiso is a leader in impact investing with a background in sustainable finance and social entrepreneurship. She cofounded SDG Impact Japan in 2021 and developed the ESG engagement fund, and has held prominent positions at organisations like the World Bank and Mitsubishi Corporation, among others.